Ben Clifford - ベン - Бэн - 班明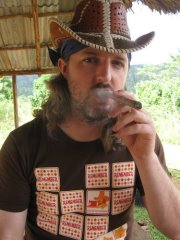 Contact
email: benc@hawaga.org.uk
Work
Here is my CV / resume.
Tech
Go here for links to my tech stuff
Praises and accolades:
I don't want to look or smell like you Ben
"Ben is my friend and i wasn't scared of him"
N says, "beer-drinking-calculator-fixing Jesus"
BENJAMIN IS BECOMING A COMPUTER WHIZZ KID.HIS AMBITION AT THIS TIME 1992 IS TO DESIGN SOFTWARE.HE TAKES COMPUTER MANUALS TO BED FOR LIGHT READING.HE TAKES AFTER HIS FATHER AND GRANDFATHER AND IS NOT A SOCIAL PERSON.
We ended up getting there very late, leaving Ben on his own drinking sake waiting for us. When we realized we were too late to eat anything, we tried to leave. But the waitress wouldn't let us leave without ordering SOME food. So we ordered a $3 green bean salad (another salad pic) and ate it in record speed. Ben just shovelled it into his mouth and left the chewing for later. Awesome.
The real geek circle was a small group of developers at the bar who came up with a silly business card game. Don't ask me the rules. Between a strong British accent and a helluva lot of beer, it was hard to make out what they were. Photos may possibly be posted at this website in the next few days. link
I went to the website and didn't understand a goddamn word of what you do this is absolute Chinese to me...grids globulars ghosts... it's pretty hot....but why must you always cover your face up with a beer????
<nanotalk> gridmokey, thanks a lot
<nanotalk> your explanation is a great help for me
Ben smells like poop.
B [to A]: i don't think that Ben usually complains about things when there isn't anything to complain about. He isn't necessarily "nice" in any circumstance, though.
B . o O ( quite often "rude" )
B . o O ( it is part of his "charm" )
D [to B]: he is also quite "sexy"
A [to B]: he makes me laugh though, so its not a simple rudeness
C nods to B.
C [to A]: he makes me laugh also
C [to A]: but I'm not always proud to be laughing. ;-)

Random road trip fact: During the trip, I used the alias "Ben" at restaurants and anywhere that required using my name. [...] And yes, I did choose "Ben" in honor of +Ben Clifford.
You know benc, he's a thought saboteur
---